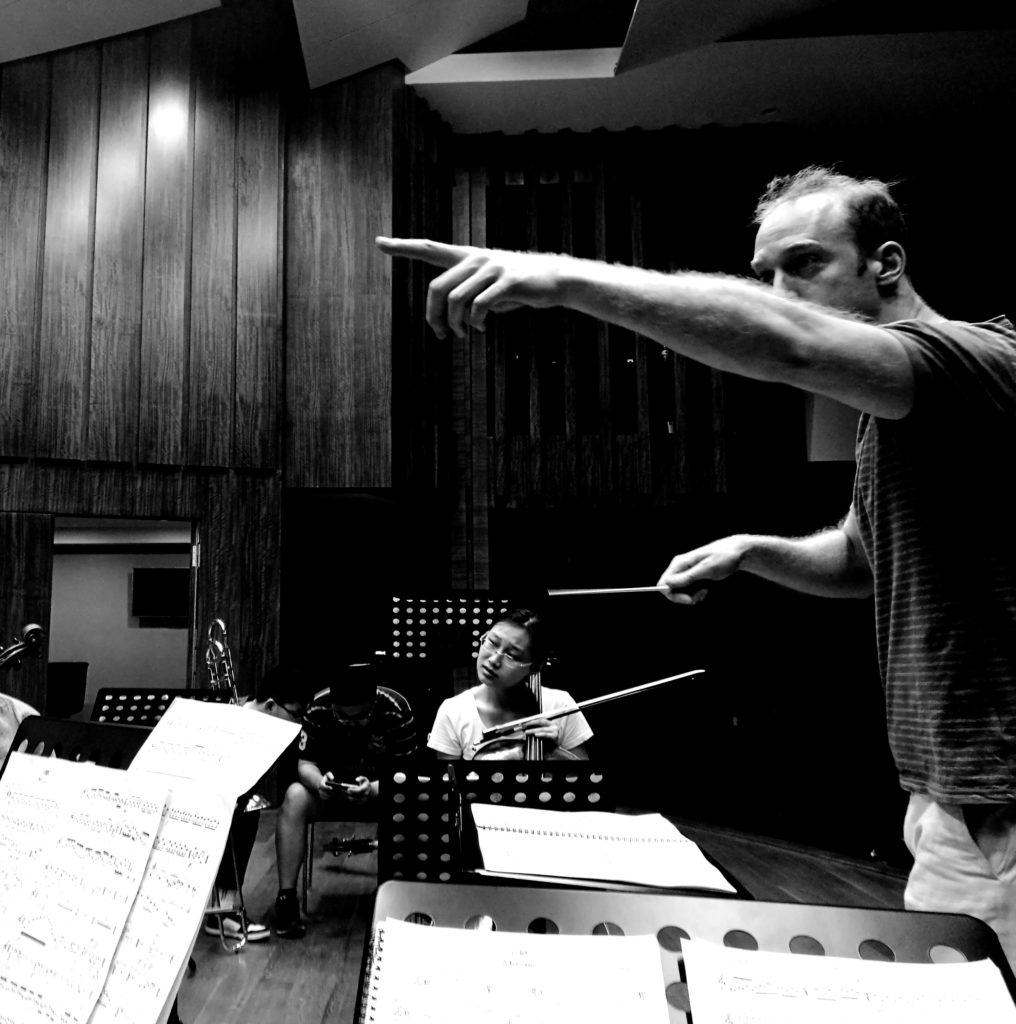 George is Dean of Composition at Tianjin Conservatory of Music (the first foreign head of department in any Chinese conservatory).  He studied composition with Robert Saxton and Michael Finnissy, and received guidance from Chen Qigang, Chen Yi, Zhou Long, Michael Zev Gordon and Thea Musgrave.
George's music has been performed by the Kreutzer Quartet, Qingdao Symphony Orchestra, St Christopher Chamber Orchestra, Ensemble Synaesthesis, Gemini Ensemble, Asian American New Music Institute, "Fan-Yin" Chinese instrument ensemble, duo Oneplusone (Latvia, Norway), Peter Shepperd Skaerved, David Owen Norris and David Alberman, among others.
On the Adopt a Composer scheme, George collaborated with Finchley Chamber Orchestra and Choir to compose Meltwater, extracts of which were broadcast on BBC Radio 3.  In Spring 2012 George won third prize in the Beijing Modern Symphony Composition Competition; Qingdao Symphony Orchestra performed his piece Earthly Branches in Beijing Concert Hall.
Recent collaborations have included: a new work for children's choir and string orchestra, premiered in Zhejiang, China in August 2017; a new solo work for traditional Sheng instrumentalist Zheng Yang; the Mulan Children's choir, which George conducts and for whom he is writing an opera; an improvised theatre-piece with dancer and actress which toured to the Wuzhen International Theatre Festival; a Welsh hymn, with words by award-winning Welsh bard John Gwilym Jones.
George recently curated season one of the Tianjin British Contemporary Music Festival, featuring the Kreutzer quartet.
英国作曲家、指挥George Holloway (卢长剑)是天津音乐学院作曲系的系主任以及天津市千人计划参加者。他在牛津大学学习古文(包括拉丁文,希腊文,哲学)。在牛津大学时,他师从英国作曲家Robert Saxton。在英国的南安普顿大学博士毕业了,师从著称于世的作曲家Michael Finnissy。2013年至2014年他在中央音乐学院指挥系当高级进修生与陈琳老师学习指挥了。2013年在北京交响现代乐大奖赛卢长剑得了第三名,而在北京音乐厅他的为大的交响乐团的作品"地支"为青岛交响乐团所演出。卢长剑的作品曾在欧洲,美国,亚洲等地都有过表演,他的作品曾被诸多著名的演奏者和乐团采用,如克罗采四重奏、青岛交响乐团,立陶宛圣克里斯托弗室内乐团、 "凡音"室内乐团、等.从2006年到2009年卢长剑还是Sound and Music的特色作曲家之一 (http://www.soundandmusic.org/)。 2010年他参加了"招募作曲家"计划,之后他为合唱团和交响乐团创作的一部作品 Meltwater 在英国广播电台播出。作为指挥,卢长剑曾组织过许多演出。他是南安普顿大学现代乐团的创立者,目前是天津大剧院木兰童声合唱团高级班的指挥。2017年8月卢长剑的躬耕书院委托的童声与弦乐队作品《斑驳之美》在浙江省被首演。